I am going to introduce recipies. Some are Japanese original food, some are not Japanese original but with Japanese taste. Which food do you wanna try ? Click on it and try to cook !


OYAKO DONBURI
TEMAKI ZUSHI
NIKU JAGA
SUKYAKI
YAKITORI
KATSUDON
SALAD DRESSING WITH JAPANESE SEASONING
KORROKE
OKONOMIYAKI
MABO-DOFU
CHEESE CAKE
HARUMAKI
AI'S SPECIAL SANDWICH
PASTA WITH SHRIMPS
CREAM STEW
SALAD PASTA
GYOZA
HAMBURG
TAKIKOMI GOHAN
GYU-SOBORO-GOHAN
CUCUMBER AND SEAWEED SALAD
CHOCOLATE CHIP COOKIES
CURRY WITH RICE
CHIMAKI
SYOUGA-YAKI
KIMPIRA GOBOU
MISO SOUP


RICE BALL



Ai's Guestbook

Enjoy cooking !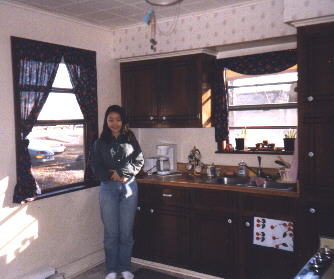 That's me in the kitchen.
My name is Ai. I am from Japan and 22 years old. I go to university in Tokyo, Japan.